呼吸をモニターする方法はいろいろあります。睡眠時無呼吸症候群の場合は、チューブを鼻のところにおいて、空気圧を測定するようです。しかし、身体に器具を装着しないでも、ビデオカメラで画像データを取得して呼吸を検出することが考えられます。呼吸に伴う状態の上下動の変化を分析したり、呼吸の際の鼻のまわりの皮膚の温度変化を検出するといったことが考えられるでしょう。
論文The Use of Infrared Thermal Imaging to Determine Functional Nasal Adequacy: A Pilot Study(September 30, 2021 https://doi.org/10.1177/2473974X211045)
では、鼻の孔の部分の呼吸による温度変化を示した図がありました。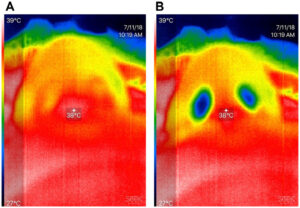 Fig.1(引用元へのリンク)
方法:A thermal video imaging device was used to record the difference in temperature (ΔT) between inspired (I) and expired (E) air at each nostril. サプリメンタリ-ムービーにあった注釈によれば、温度差ΔT=5度Cだそうです。室温と体温の差がおよそ10度程度あるでしょうから、比較的検出しやすい、十分な温度幅があると言えるかもしれません。
使用カメラ:Seek thermalPRO (Santa Barbara, California) imaging device, in pinpoint-temperature reading video mode, was placed approximately 5 to 20 cm from the subject's nostril, similar to a basal view rhinoplasty photograph. This device was previously tested in another biomedical application.13 Maximal inspiratory (I) and expiratory (E) temperatures were recorded for each nostril, and the difference between the 2 extremes was recorded as ΔT in several conditions (Figure 1; Supplemental Video 1)
Journal of Biomedical and Health Informatics (JBHI) Special Issues Camera-based Health Monitoring in Real-world Scenarios  Deadline for Submission: 31 December, 2022
Continuous Monitoring of Vital Signs Using Cameras: A Systematic Review  Sensors (Basel). 2022 Jun; 22(11): 4097. Published online 2022 May 28. doi: 10.3390/s22114097 PMCID: PMC9185528 PMID: 35684717
IR thermography-based monitoring of respiration phase without image segmentation Journal of Neuroscience Methods Volume 301, 1 May 2018, Pages 1-8 Novel algorithm obviates the need for defining regions of interest, image segmentation and tracking of the nostril.
Thermal image processing for real-time non-contact respiration rate monitoring Abdulkadir H Alkali,Reza Saatchi,Heather Elphick,Derek Burke First published: 01 March 2017 https://doi.org/10.1049/iet-cds.2016.0143Citations: 24 Institution of Engineering and Technology. Facial tracking was required as head movements caused the face to appear in different locations in the recorded images over time. The algorithm detected the tip of the nose and then, a region just under it was selected.
Breathing Analysis Using Thermal and Depth Imaging Camera Video Records. (2017). Sensors Volume 17 Issue 6 10.3390/s17061408
Nose Detection and Breathing Monitoring in Thermal Images. International Journal of Advanced Science and Technology Vol.109 (2017), pp.67-76 http://dx.doi.org/10.14257/ijast.2017.109.07
サーモカメラを用いた呼吸の検出(動画)
https://www.youtube.com/watch?v=NrufyuN8JcU
FLIR and Mask Breathing Thermal Imaging マスクをした状態での呼吸の検出
Camera-based health monitoring Wenjin Wang, Gerard de Haan Cameras have been used to measure physiological information (e.g. heart rate, breathing rate) and contextual information (e.g. discomfort, delirium) from human face and body for health care.
Seek Thermal
このカメラは、アンドロイドのスマートフォンに接続して使うタイプのようです。
Seek Thermal – Android Infrared Camera Review by Ganesh T S on May 1, 2015 8:30 AM EST The microbolometer in the Seek Thermal camera responds to long-wave infrared (i.e, wavelengths between 7.2 and 13 microns).
株式会社ヴュオールイメージング View Ohre Imaging
サーマルヴューX-HRシリーズ 人体温度測定に最適化 データ出力 ビットマップ、CSV、ローデータ ギガビットイーサネット 全機種最小温度分解能(NETD)は0.05℃以下(@30℃)
例:上半身・静脈の熱画像1 サーマルヴューX(640×480画素)(YOUTUBE)
HikMicroサーモグラフィ―カメラ
HIKMICRO B10 サーモグラフィー カメラ 256 x 192 画素の赤外線熱画像 2MP 可視光カメラ、熱画像キャプチャー頻度 25Hz  ¥45,760 アマゾン 192 x 144 のIR解像度と熱感度<0.04°CのHIKMICRO VOX検出器を搭載 (目、角膜の熱画像 サーマルヴューXHR32-RA0350 YOUTUBE)
HikMicro E1L – Compact Thermal Imaging Camera Thermal Resolution: 160 × 120 
HM-TP42-3AQF/W-Pocket 2 HIKMICRO https://securitydesign.bcart.jp/uploads/HIKVISION/HIKMICRO/HM-TP42-3AQF_W-Pocket2/data_HM-TP42-3AQF_W-Pocket2.pdf 精度2度C
FLIR
FLIR A50/A70 画像転送専用カメラ 固定型赤外線サーモグラフィカメラ
FLIR HADRON™ 640R 赤外線サーマルと可視光の高性能デュアルOEMカメラモジュール ]
FLIR Tau® 2 OEMサーモグラフィカメラ
FLIR Tau 2 336 60Hz – LWIR Infrared Camera Core (09 50mm F/1.2-6.5°) Visit the フリアー(Flir) Store ¥900,000 アマゾン
1460-1600nm Near-Infrared Camera  商品コード #56-567-RCD-05N ¥188,587 EDMUND OPTICS